With an increasing number of people who turning to gluten free cooking, there are more choices than ever before when buying your cooking supplies. If you are new to the idea and you aren't sure how to substitute the wheat flour into your favourite recipe, then you can follow some basic tips on how to start gluten free cooking for a healthier you. It won't be long until gluten free cooking is second nature to you.
Luckily, there are more choices than ever before in the grocery store. You don't have to look far to see the "gluten-free" labels to make your choices. Some people are only interested in avoiding the gluten due to Celiac Disease of wheat intolerances but others also are looking for ingredients that are free of other ingredients like dairy, corn, soy or potatoes. The trick to gluten free cooking is having the right ingredients on-hand to use in all your favourite recipes.
Start with a basic baking and pancake mix that is gluten free and modify it to suit your needs. For ease of incorporating into your recipes, you will have a big advantage if you measure it just like regular flour. One to one substitutions are easier to make without mistakes. If you are newly diagnosed, expect to spend some time looking for the best products for your needs and read every label to ensure there are no ingredients that you are avoiding like dairy or nuts. Gluten free cooking is not difficult, you just need to make sure you screen all of your ingredients for gluten before you start.
Although some sources will tell you that you can safely eat products with oats, others consider them risky because of the likelihood that they have been cross-contaminated with wheat crops. To be certain, you can now find oats that are being grown and milled by independent farmers as "certified gluten-free".
Learn to thrive without Gluten!
Sign up below for your free membership and eBook Gluten Freedom: A Guide to Living Gluten Free. Plus, receive our 20 lesson Master eCourse to thrive in the gluten free lifestyle!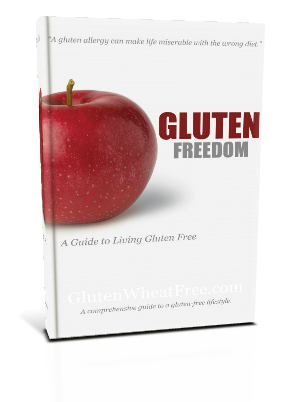 If you live in a small area where there aren't many choices for shopping for gluten free products, going online will give you the variety you need. You will find a number of sites dedicated to those who need gluten free cooking and foods with tips, reviews, and recommendations for products. This will help you make your choices based on other's experiences rather than having to order a variety of products to find the right one for your taste.
If you don't have a problem with cane allergies, then don't sacrifice the sugar in your baking. You probably aren't going to use and eat enough to cause a problem and it makes a world of difference to the way your baked goods turn out. Try using organic brown sugar, it will provide sweetness and moisture to your goodies. Cane sugar also works great in GF cookies and other baked goods. .
For dairy-free recipes, organic light coconut milk is a versatile substitute. It works equally well in sauces and in whipped recipes. Just make sure it doesn't have a high concentration of Guar gum or it can act as a laxative!
There are many tried-and-trued products that you can use as staples in your pantry for gluten free cooking. Experiment to find which items you enjoy working with, and eating, and you will be an expert at gluten free cooking before you know it!