It is a fact that whenever you are not allowed anything in your diet or you are suggested not to consume it since your body is it's intolerant, you wonder will it be harmful, or will it contribute to weight gain. The truth is that if your body is gluten intolerant, you can face problems of weight gain that are not as common as the weight loss.
In case of gluten intolerance, your body cannot absorb the protein gluten which is mainly found in barley, wheat and rye. If you are gluten intolerant and you still continue to eat foods which have gluten content, you may suffer from different digestive problems and weight gain will be one of them.
To realize whether your body can tolerate gluten or not, avoid gluten in your diet and see whether you still see the same troubling symptoms. They will are usually not same in every person. Some may face bloating, constipation, diarrhea, cramping, gas or any other.
We have known that weight loss can create many more problems in relation to digestion. All foods rich in gluten content also have a high amount of fats, sugars and many artificial ingredients; hence gluten directly or indirectly contributes to weight gain. Avoiding gluten will help in weight loss as well as indigestion.
Learn to thrive without Gluten!
Sign up below for your free membership and eBook Gluten Freedom: A Guide to Living Gluten Free. Plus, receive our 20 lesson Master eCourse to thrive in the gluten free lifestyle!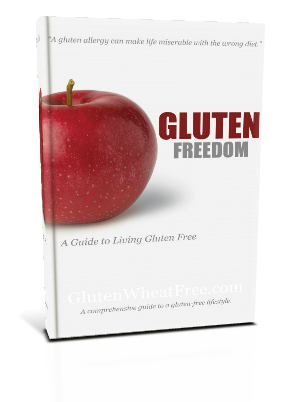 You can suffer too much weight gain; in case you are gluten non tolerant and you still continue to have foods that contain gluten. There also arise a lot of problems with gluten intolerance. Since due to gluten your body cannot absorb the nutrients from the food, you can face vitamin deficiencies. There may also arise problems like inflammation anywhere on your body that lead to autoimmune disease problems.
Due to the inflammation caused in your body because of gluten, you can face problems like arthritis, multiple sclerosis, diabetes and other auto immune disorders in their worst situation. Another serious Harm is the celiac disease that is a severe allergic reaction.
If you have a proper diet that is gluten free, you are likely to loose more weight since weight loss is more common than the weight gain in this particular case. You will surely face a good relief from the all the digestive problems you are ailing.
Removing gluten from your diet is alone not enough; you also need to add up some nutrients to your diet. They may be healthy vegetable, proteins, fruits, and other whole grains. Just be cautious about the packaged food you consume. Try and avoid it as much as you can. This will help in lowering your caloric intake and you can loose your weight naturally.
It is also experienced by many people that a gluten free diet helps in weight loss as well as improves overall health. If you want to experience weight loss naturally, try avoiding the gluten containing foods and especially the packaged foods with high gluten quantity.