Most women go to the gym to lose weight.
But did you know that you can do the exact opposite? To gain weight fast women need to consider their nutrition, especially if they're intolerant to gluten.
You've heard of increasing muscle mass, but to gain weight fast women often worry that they'll end up looking too masculine – gaining mass in all the wrong places.
You might be under the misconception that if you start working out with weights – lifting them and getting into that area of exercise – that you'll end up feeling like a man (or worse) developing a more masculine appearance. So if you're afraid of that, put your fears to rest.
The exercise is vitally important though, because without it, you run the risk of gaining weight and having that weight show up in unflattering ways such as in the rear, on the thighs or as a droopy, flabby stomach.
Learn to thrive without Gluten!
Sign up below for your free membership and eBook Gluten Freedom: A Guide to Living Gluten Free. Plus, receive our 20 lesson Master eCourse to thrive in the gluten free lifestyle!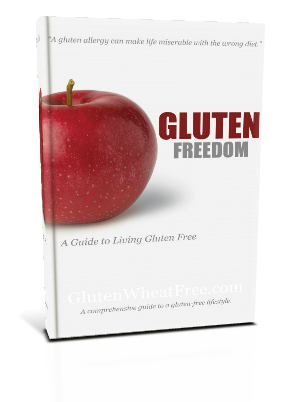 When you're a woman and you want to gain weight:
You might have heard other women bemoan their weight and you just wish you could gain something! You can – but it's going to be a combination process. Eat what you should to get the weight to come on, and work out in regular exercise sessions and you will see results.
You can't stick to walking or jogging or running on the treadmill. That isn't going to help you gain weight. In fact, it's going to have the opposite effect – so for now, leave the treadmill alone and focus on muscle building activities instead.
You have to learn how to work with weights. Working with weights will build muscle, but also won't work your body out in such a way that you end up negating all of your hard work of trying to gain pounds.
Knowing how to gain weight fast, for women is such a fine line, especially when you want to be gluten free. You want to gain, but you don't want to look out of shape. You might be concerned that lifting weights alone won't help the pounds develop in a way that's attractive on your body, but this isn't true.
Weight training builds physical strength due to the sets and the endurance produced during the workouts. You also add the side benefits of weight training that helps cut down on your risk of later developing osteoporosis.
The difference between exercising to gain versus to lose weight is that the focus is on the individual muscle group and is done in a series of repetitions solely designed to build those muscles.
For example, to build up your triceps, you might use a free weight. You would lift the free weight over your head and lower it behind your head, then bring it back up and repeat. That movement specifically targets just the triceps and can help ensure that you don't get the dreaded flabby skin that can happen under the arm.
In order to gain weight for women, most of the time, genetics are on your side. Women have a tendency to be able to gain weight easier than men and if you can remain focused on your plan, you can have a new you within a few short months.  You may read more about how to gain weight fast, for women in http://www.womensweightgain.com/