Every human body is different. The allergies for someone might prove to be profitable for others. Similarly, anything in excess is dangerous for your body. You should eat things that suit your body and are healthy for you. In case you have gluten intolerance, the gluten free grocery list would be good for your reference. Many of the foods we eat are naturally free of gluten.
Grains – in case of grains, for avoiding gluten, you need to skip barley, wheat and rye. There are still many grains left back such as rice, corn, oats that are gluten free, quinoa, millet & buckwheat. Any healthy food store or a supermarket can provide you with any of these grains.
Vegetables- you can eat numerous vegetables that provide you vitamin and minerals. All of them are gluten free. Some of them could be peas, carrots, onions, broccoli, potatoes, green peas, lettuce, zucchini, cauliflower, peppers, eggplant and many more.
Fruits-you can try out all the fruits without any worries since all of them are gluten free. They are healthy and provide you with vitamins. Trying new ones would add to your taste. Some of them are star fruit, mango, papaya, kiwi, watermelon and Clementine.
Learn to thrive without Gluten!
Sign up below for your free membership and eBook Gluten Freedom: A Guide to Living Gluten Free. Plus, receive our 20 lesson Master eCourse to thrive in the gluten free lifestyle!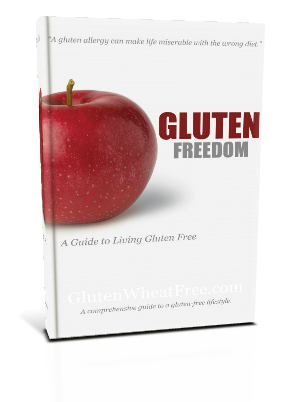 Meat-meats like chicken, pork, beef and turkey are gluten free. Most of the others are also gluten free. You just need to take care when you are eating some processed meats. Also check out the content while consuming any of the sausage, the lunch meats or hot dogs. They can sometimes have gluten content. Other packaged items should also be checked before consumptions.
Fish-some fishes are breaded with wheat flour based breadcrumbs which is another name for gluten. Check out the packaged fish items though most of them are gluten free. Processed fish must be checked and consumed.
Beans-eliminating gluten from your diet needs a lot of carbohydrates and vitamins to be added to your diet. This need is satisfied by beans. All of the beans like pinto beans, black eyed beans, navy beans, black beans and white beans are best to be added to your diet. Pay attention while consuming soups and flavored beans which may contain gluten.
Milk-though milk is gluten free, but since you are gluten intolerant, you are also lactose intolerant, therefore, you need to take care of the milk you drink. You can manage this imbalance with the help of proper diet control.
Some yogurts also contain gluten content, so you need to be careful and checkout the ingredients. Good milk products like cheese, sour cream, cottage cheese, yogurt, plain milk are also gluten free. In case of lactose problem, eat products which are lactose free.
Gluten Free Substitutes- almost most of your diet should be naturally gluten free so that it adds to your health. For any special items for treat, you should eat gluten free cookies, cakes, bread and any others that you want to taste.