People are often confused with the fact that only those affected with celiac disease and those suffering from Gluten based allergies need to take a diet that is free of gluten. But the simple fact is that a gluten free diet will help you no matter what. Elaborations follow
A gluten free diet offers the single greatest benefit of weight loss for you. This is because a gluten free diet eliminates all those foods that are fatty and induce weight proportions on the body and these foods include cakes, pastries and other items that are fat inducing in their nature.
It is humanly possible to have gluten free diet and still not lose weight, but this case is rare and in majority of the cases, the people who make the jump to the gluten free paradigm often find that they have lost quite a few pounds. This may happen if French fries have taken the place of the breads in your life.
Gluten is also notorious for its ability to cause inflammations in a lot of patients, and that includes the increase in the conditions of chronic fatigue syndrome, multiple sclerosis, and other auto-immune disorders. Such symptoms can decrease from having a diet that is gluten free.
Learn to thrive without Gluten!
Sign up below for your free membership and eBook Gluten Freedom: A Guide to Living Gluten Free. Plus, receive our 20 lesson Master eCourse to thrive in the gluten free lifestyle!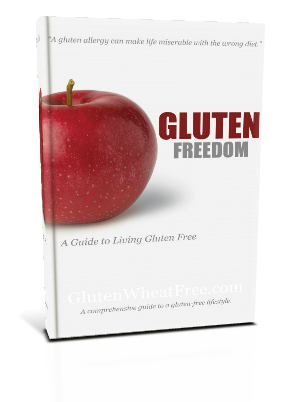 You can also control your diabetes by having a diet that is free from Gluten. Gluten is rich in simple carbohydrates that may potentially misbalance the proportions of insulin resulting in increased diabetic conditions.
Irregular bowel movement in the form of diarrhea, cramping and constipation are also minimized by the use of a gluten free diet. You will find that the consumption of such a diet will ensure that the bowel movement is stable
The polycystic ovarian syndrome, the main reason behind the factor of infertility can be can be minimized by losing gluten from the diet. Women often find that gluten causes a misbalance in the insulin levels which subsequently causes a hormonal imbalance in them, which can lead to complications.
Cancer and other deadly diseases can also be minimized by consuming foods that are rich in fiber and nutrients like fruits and juices, and steering away from foods that are rich in gluten can be a welcome change in the health benefits that an individual can have.
A diet that is free of gluten will also enable you to have a much more healthy lifestyle than with the gluten enabled foods, because you will be increasing the intake of foods that are rich in nutrients and less in gluten, and you will be taking in proteins, vitamins and minerals, all necessary for a healthy living.
Many people believe that gluten should only be avoided if one is struck with intolerance or is suffering from a disease. But the fact is that using gluten free diet will ensure that the fat accumulation is minimal and the individual takes a much healthier turn towards life in general.