If you wish to avoid gluten from your daily intake, then the question arises in your mind, "Is Gluten Really Absent In Foods With a Label, "Gluten-free"?  This is a very significant query, especially if you happen to develop fatal complications due to allergy to gluten.
In the U.S., there are certain criteria to label a foodstuff  as "Gluten-free", which is usually decided by the Food and Drug Administration, U.S.  To obtain this label, a foodstuff has got to pass through countless tests.
A foodstuff can obtain this label, if any grains such as wheat, rye or barley is absent.  Generally absence of any such grains as the components enables it to obtain the label, "Gluten-free".  But, there is another test too.
Another criteria is that, if any of such grains are present, then they must have undergone refinement process for the removal of gluten from those products.  Of course, removal of gluten is possible through certain manufacturing processes.
Learn to thrive without Gluten!
Sign up below for your free membership and eBook Gluten Freedom: A Guide to Living Gluten Free. Plus, receive our 20 lesson Master eCourse to thrive in the gluten free lifestyle!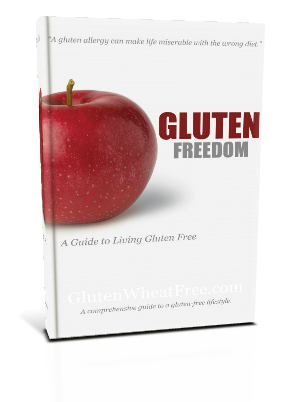 Ultimately, the gluten content in a food should not exceed 20 parts for each million.  Can gluten be present in a food not prepared from wheat, rye or barley?  This can happen following cross-contamination of such grains in a manufacturing factory.
This is a matter of great concern when you've got to consume foods or drinks with gluten content.  Nevertheless, there're countless foods devoid of gluten, without the necessity of having a label, "Gluten-free" on them.
For instance natural gluten-free products include fresh fruits and vegetables.  Hence, a label is not required for these items.  Similarly unrefined meats are naturally-occurring gluten-free items.  Ensuring the absence of gluten is necessary in refined meat, like Delhi lunch meat.
So, the label of "Gluten-free" has significance usually in refined foods.  You should also remember that a food company need not put the label, "Gluten-free" on its consumer products.  Hence gluten might be absent in a product, without the label on it.
Nevertheless, on getting approval from the FDA, the majority of companies prefer to use the label "Gluten-free" on their products.  This is important particularly in patients suffering from celiac disease, to know which food items should be avoided.
If you wish to follow a gluten-free  routine, then a clear understanding to read the label is a serious issue.  You can be definitely sure of the fact that the label "gluten-free" is appropriate.  So if your query is, "Is Gluten Really Absent In Foods With a Label, "Gluten-free"?", then the reply is "Yes".