Athletes have a greater requirement as far as their nutrition is concerned and this is made worse for athletes who are intolerant to gluten. The problem is that with athletes, if they do not take in sufficient nutrients and fibers, their performance will drop. Hence it is important for gluten intolerant people to manage their diet.
As usual, they cannot take in pasta, breads, and other carbohydrates and unfortunately, they are heavily dependent on these substances for their nutrition. But this does not mean that there should be no carbohydrates that you should take in. You just need to be careful with what you take in.
It is important to understand for you as an athlete at the very outset that gluten can potentially disrupt your digestive system and its normal functioning, and you will agree that without a good digestive system you will not be able to absorb the nutrients in as much as you would like it. Gluten for you is an absolute no-no.
When you eliminate gluten from your diet you make sure that your digestion is up and running at its peak and accordingly, you will have fewer chances of constipation and diarrhea and cramping as well. This is wondrous for you and for your health, because you will be able to absorb nutrients better.
Learn to thrive without Gluten!
Sign up below for your free membership and eBook Gluten Freedom: A Guide to Living Gluten Free. Plus, receive our 20 lesson Master eCourse to thrive in the gluten free lifestyle!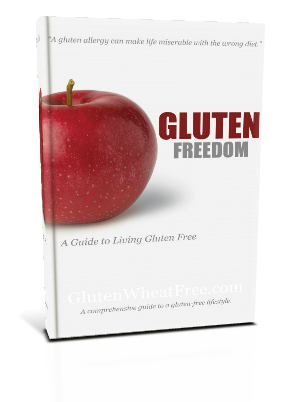 The second thing that you need to ensure is that you are using the right amount and right kind of carbohydrates. Getting the wrong kind of carbohydrates will mean that you are not taking in to your body's requirement and therefore will not have much help.
If you want the best carbs out there, you will find them in abundance in corn, rice & potatoes. Quinoa is also another safe method to get carbs if you are worried about gluten. You can also have nuts if you are worried about the gluten thing.
Although you have access to a lot of gluten free substances as substitutes, you can normally take in foods that are naturally without gluten and those that can make a profound impact on your nutritional health. Just make sure that you take in foods that are wholesome and refreshing, that reinvigorate your body.
Your performance is also an important parameter to your performance, so you can expect that if you take good nutrients that do not have the gluten parameter in them your performance is bound to increase in leaps and bounds.
This applies even if you are not gluten intolerant. By taking in foods that don't have gluten you will be able to have a more absorptive power over gluten rich foods, and that in essence will enable you to have a more energetic day from the food that you take. It's a win-win situation if you don't take in foods rich in gluten.
Being an athlete you will worry more and more about the food that you take in.The food that you take in forms the very core of your fuel and it is where the entirety of your performance is based. So a wise choice in your food intake will work wonders.